The Trifecta of Trust Webcast | Duman & Zenger/Folkman
yd1461admin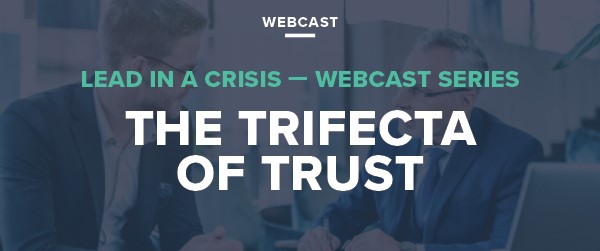 The last webcast of the series "Lead in a Crisis" is scheduled for tomorrow Wednesday, May 6 at 21:00 entitled "The Trifecta of Trust".
Trust is a critical factor for leaders who want to be successful—especially in times of heightened stress and uncertainty. But for many leaders, understanding how to earn or establish trust can be perplexing. In this webcast, we will review our research of over 87,000 leaders, which revealed the three critical behaviours that form the foundation of trust: Positive Relationships, Good Judgment, and Consistency.
In this webcast, Jack Zenger and Joe Folkman will provide valuable insights that will help you improve trust within your teams.
Learn why leaders don't have to be perfect in all three behaviours to be successful—they simply need to be above average.
Receive instant results from the Trifecta of Trust Self-assessment, which will help you understand your preferences on the three foundational behaviours.
Use a development guide to help you build your path for personal development.