Communicating Powerfully Webcast | Duman & Zenger/Folkman
yd1461admin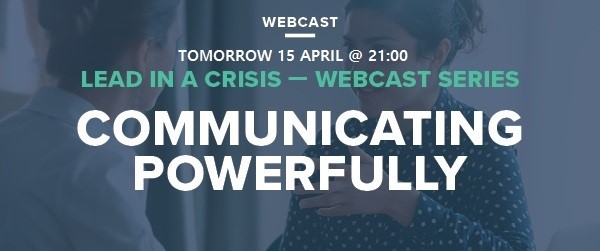 The second webcast of the series "Lead in a Crisis" is scheduled for tomorrow Wednesday, April 15 at 21:00 entitled "Communicating Powerfully".
There are a variety of skills that can help a leader succeed in a crisis. However, the one skill that our research shows has the most impact is the ability to communicate powerfully. Most leaders feel a need to keep others informed during a crisis. That is helpful. But there is a big difference between leaders who simply inform others and those who know how to communicate powerfully.
Join Jack Zenger and Joe Folkman to discover the five behaviours that enable leaders to significantly improve their ability to communicate with impact.
Receive a brief self-assessment that will help you understand your strengths and potential weaknesses in communicating.
Use a development guide to help you communicate more powerfully.
These practices for dynamic communication with a substantial impact do not only concern leaders as leadership in the VUCA environment (volatile, uncertain, complex, ambiguous) we live now concerns all employees of an organisation.